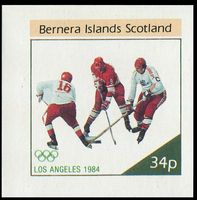 Click here for higher resolution image
First day of issue: 1984
Occasion: 1984 Winter Olympics,1984,Sarejevo,Yugoslavia
Width: 38 mm
Height: 38 mm
Perforation: Imperforate
Location: Ice Hockey Volume V
Stamp ID = 123


---
From Britain's "Stamp & Coin Mart" magazine section on Britain's local stamps.


Bernera Islands

Location: Part of the Western Isles, off the north west coast of Scotland

Stamps: A range of stamps have been issued over the years, celebrating events such as the 1997 handover of Hong Kong back to China, the death of Princess Diana, and the Queen's Silver Jubilee in 1977. Most major royal occasions for the past thirty years have been featured on Bernera Islands stamps.

Contact: Bernera Islands local stamps are available from dealers, with prices starting at a few pounds, up to hundredsof pounds for original artwork.