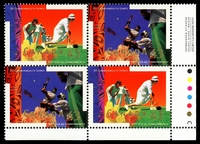 Click here for higher resolution image
First day of issue: May 20, 1994
Occasion: 1994 Commonwealth Games,1994,Victoria,Canada
Width: 92 mm
Height: 61 mm
Perforation: Perforated 14.00 x 14.00
Printer: Leigh-Mardon Pty Limited, Ingleburn, Australia
Creative team:
David Coates, Designer
Roderick C.J. Roodenburg, Designer
Location: Lacrosse & Ringette
Stamp ID = 7477

Lower right corner.


---
From Linn's "Stamp Issuing Entities Of The World" page

Canada (1851-)
Stamp-issuing status: active; Population: 29,123,194. An independent state within the British Commonwealth, occupying the northern part of North America.