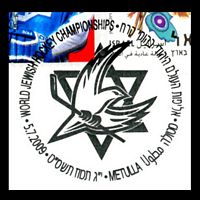 Click here for higher resolution image


Cancel for the 2009 Ice Hockey Jewish World Championship in Metulla, Israel from July 5 through July 16, 2009.
Colors in the cancel shown below denote the language.

Black for Latin text.

Red for Hebrew text.

Blue for Arabic text.
Cancel 33 mm. in diameter.
Cancel designed by Irving Osterer.

NOTE

translated



WORLD JEWISH HOCKEY CHAMPIONSHIPS
JEWISH WORLD CHAMPIONSHIP IN ICE HOCKEY
5.7.2009 TAMMUZ 5769
METULLA METULLA METULLA



Location: Ice Hockey Volume LIX